Letters to the editor – week 19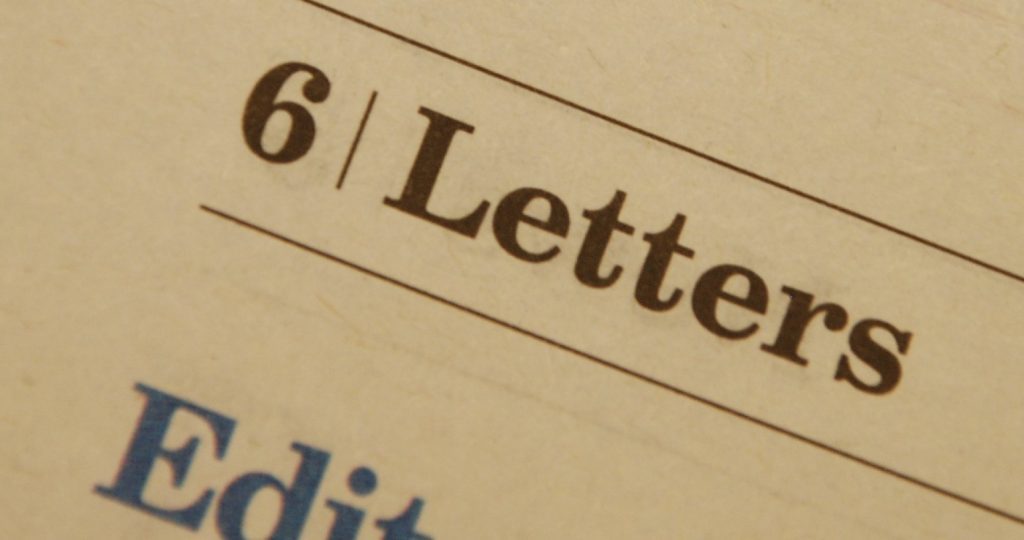 Want to read more?
We value our content, so access to our full site is  only available on subscription.
Your subscription entitles you to 7-day-a-week access to our website, plus a full digital copy of that week's paper to read on your pc/mac or mobile device.
And there's more – your subscription includes access to digital archive copies from 2006 onwards
Subscribe Now
Nesting Ardrishaig gulls
Sir,
As the Argyll Bird Recorder, I have recently received considerable communication following the front page story in last week's Argyllshire Advertiser, both from local folk and from various social media groups.
Concerns have been voiced about some of the points raised by Mr Tongue's letter and responses as whether or not the 'amber listed' Common Gull colony at the site has been affected or that it actually exists as a traditional colony which was perhaps mistakenly implied by the Argyll and Bute Council.
I am supportive of this exciting canal heritage project going ahead and wish it well, however I also believe it necessary to clarify the past and current situation regarding this decreasing bird species of gull at this site.
I can confirm, from records, that a colony of 15-20 pairs of Common Gulls has been using the area behind and nearby to the large oil tanks (now removed) used by Gleaner Oils for many years as well as two or three pairs of Oystercatchers.
It appears that the Argyll and Bute planning department had perhaps not been made aware of the presence of this colony at an early enough stage in the planning process, and despite my approaches to the department no one has got back to me in recent weeks to discuss if any environmental impact studies took this colony in to account.
The situation with the Common Gulls this year is that up to 20 pairs turned up at their traditional site and started nest building on April 22 when no building work was in progress over the weekend. At times when the builders are working the gulls understandably leave the site but then return during the evenings and at weekends. Several birds were again sitting on apparent nests as recently as May 4, however it looks like many others may have moved elsewhere.
Measures have since been taken by the builders to encourage the birds to leave the area prior to laying their eggs and to give them a chance of nesting elsewhere soon. Recently I had a meeting with SNH (Scottish Natural Heritage) and the RSPB and both were sympathetic and understanding of the situation.
I also plan to meet with the Scottish Canals environmental scientist soon in the hope that perhaps provision can be made, within the scope of the hub project, to allow for a nesting area for the Common Gulls in future years at the site.
This could give rise to an exciting opportunity enabling the public and visitors to the new heritage centre to view these gulls raise their chicks, for which is effectively the rarest colony of nesting birds in the Crinan Canal corridor.
Jim Dickson, Argyll Bird Recorder, Cairnbaan
Windfarms' economic benefit
Sir,
This week Allt Dearg Wind Farm distributed over £135,000 to the Ardrishaig Community Trust, which holds the village's share in this locally owned wind farm.
Combined with the recent payments to the Tighnabruaich and Tarbert Trusts which hold similar shares in the neighbouring Sròndoire Wind Farm, together with the wind farms' contributions to the local educational trust, this brings the total direct community benefit payments from these projects to well over £ 1 million.
This is a significant milestone for the projects, and highlights the socio-economic advantages of local ownership in wind power. Despite its relatively small capacity Allt Dearg is the single largest contributor of community benefit payments in Argyll.
This week the UK Government published the results of its latest tracking survey of public attitudes to energy and climate change. This shows continued growth in support for on-shore wind, and eight in ten agreed that renewable energy developments should provide direct benefits to the communities in which they are located.
Some objections to wind farms remain, and our turbines remain visible in the distance. We hope that the views of Allt Dearg and Sròndoire might remind such objectors that we are economically dependent on what we can produce from the limited options available to us in remote rural areas. That our particular wind farms are able to make a significant contribution to local employment and deliver funding direct to our neighbouring communities, whilst supplying around 20 per cent of Argyll and Bute's annual domestic electricity requirements from a clean renewable resource, is very satisfying.
We would like to thank all those who have made these projects the successes they are, and in particular thank those local community councillors and trust members who have given so much of their time in recent years to make this all happen. For our part, we will continue our efforts to grow the industry and economic activity that provides secure employment and opportunity for our local community.
We look forward to our community partners being able to invest the fruits of these wind farms into exciting local projects.
Mary Broadfoot of Stronachullin and James F Lithgow of Ormsary
Alone and isolated
Sir,
Loneliness is a major issue in society and affects everyone from all walks of life, regardless of age or ability.
That's why we're pleased the Scottish Government is looking at the development of a new approach to tackling the issues of loneliness and social isolation – something we have first-hand experience of and how it affects many of the people we support in Scotland.
Following a recent survey of over 150 service users of our homecare services in Stirling, Falkirk, Perth and Kinross, and Angus which focused solely on loneliness and social isolation, it was revealed that loneliest people receive far fewer visitors each week. While this is hardly surprising, we did find that those who either lived with family or had family close by were less at risk of loneliness and the negative health impacts associated. Our research also highlighted that respondents, in most cases, simply wanted a chat over a cuppa with someone their own age.
Social interactions are something the vast majority of us take for granted as we all lead such busy lives, but for someone who is alone, watching time go by very slowly, it's incredibly painful for them to sit at home day after day with no communication from the outside world.
Charities such as Sue Ryder regularly arrange social events for our service users and their families.
But if, as a nation, we're serious about tackling loneliness as a public health issue then we need to be resourcing our local authorities to put in place services or to commission them from the third sector to ensure that no one feels alone and isolated in Scotland.
Pamela Mackenzie, director of neurological services and Scotland, Sue Ryder, Stirling
A real royal present
Sir,
This spring we hope your readers will celebrate the royal wedding with their very own Right Royal Tea Party in aid of Meningitis Now.
Putting on a spread fit for a royal wedding is a piece of cake with our free fundraising pack and, as Prince Harry and Meghan Markle have requested charity donations rather than wedding presents, you can fulfil their wishes whilst helping families affected by this devastating disease.
A royal-themed Time4Tea can be held anytime, not just on Saturday May 19, the date of the Royal Wedding. And it can take place anywhere – at home, at work, at school.
Just pop the kettle on, slice up a cake or two, homemade or bought (you have to have cake at a wedding) and invite friends, relatives and colleagues to enjoy a cuppa or perhaps even a glass of champagne.
The serious point is that you'll be helping to fight meningitis and move us one step closer to our vision of a future where no one in the UK dies from meningitis – and everyone affected gets the support they need to rebuild their life.
Sadly, despite developments in vaccines, meningitis and septicaemia continue to affect thousands every year and kill more under-fives than any other infectious disease. Help us fight back on all fronts by funding research to eradicate the disease, raising awareness and supporting survivors.
That would be the perfect wedding present.
Find out more at www.MeningitisNow.org and search for Time 4 Tea.
Elaine Close, community fundraiser, Meningitis Now
Inveraray dog concern
Sir,
Please would the parents of the young girl who may have witnessed a recent incident with a man and dog in Inveraray Main Street be kind enough to contact my husband and I through this newspaper?
We saw a man who, we believe, mistreated a dog in the street at 8.30pm on Sunday April 29, and his movements in the immediate aftermath.
We are both keen to know that this young person is alright as she appeared to be terribly frightened, running off at speed with her two dogs as he headed straight for her.
Knowing she was now fine would put our minds at rest. We can still see her face full of horror and hear her cry.
Otherwise we had a lovely holiday – you have a most beautiful part of the country to live in.
Name and address supplied