Letters to the editor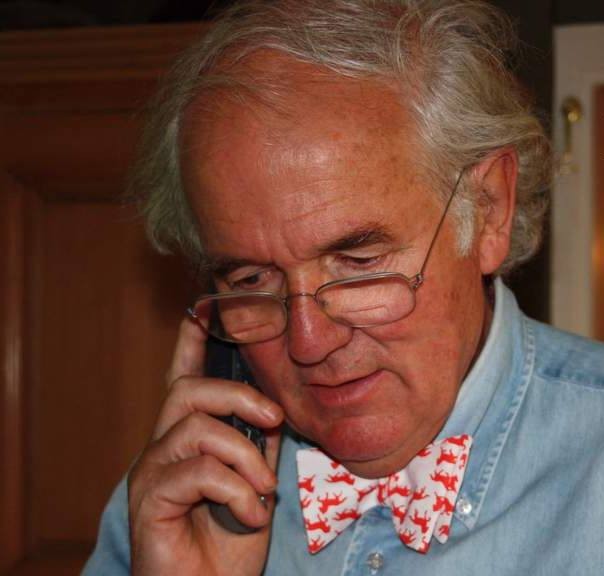 Want to read more?
We value our content, so access to our full site is  only available on subscription.
Your subscription entitles you to 7-day-a-week access to our website, plus a full digital copy of that week's paper to read on your pc/mac or mobile device.
And there's more – your subscription includes access to digital archive copies from 2006 onwards
Subscribe Now
Passing of Nick Ryan
Sir,
It is with a huge amount of sadness that we share the news of Nick Ryan's passing.
Nick was one of the owners of Crinan Hotel in Argyll, a founder member of Luxury Scotland, a friend, a highly respected hotelier who contributed immensely to all aspects of Scottish tourism over the past 45 years, a wonderful raconteur, witty, funny, kind, an unforgettable human being.
Our thoughts are with Frances his wife, children and family.
Thank you for everything Nick, from the very beginning.
You are a bright star in the sky.
Luxury Scotland
Sir,
It is with great sadness I read of Nick Ryan's passing.
I met Nick the first time in Caigellachie in 1994 and remember every minute of that first meeting and the many that followed. It is very poignant to be in Craigellachie again today after many years away.
To me Nick will always be one of the greatest hoteliers with the most personable of hospitality. Nick, you will be so missed my friend.
Tomas Gronager
God bless you
Sir,
At the end of the recent Good Friday Easter service at Christ Church Lochgilphead, and the reading of my Homeless Jesus booklet, an anonymous donation of £100 was left for our homelessness awareness project ArgyllSHARE.
To that kind person, God bless you.
We have donated the money to our nominated charity, Grub's Up Recovery Cafe. Such generosity of time, money and spirit is, I am quickly discovering, a virtue of living in this big-hearted landscape.
Thank you.
Sharon Wilkie-Jones
ArgyllSHARE
Sugar tax
Sir,
The introduction of the sugar tax on April 6 is undoubtedly a positive move to help reduce the excessive quantities of sugar in everyday foods and drinks. However, for those who live with or care for young children with type 1 diabetes, quick access to a fizzy drink or sugary food can be a life-saver, and the change is likely to create a new challenge.
People with Type 1 must regularly monitor their blood glucose levels. If levels drop dangerously low, they will experience hypoglycaemia (or hypo) and need sugar. For many, instantly reaching for a favourite fizzy drink can be what it takes to stop them going into a coma. They know the exact sugar content and exactly how much they need to drink.
All this changes as drinks manufacturers bring in new recipes and new cans of the same fizzy drink appear on the supermarket shelf alongside the old cans. The certainty of what they are taking is lost.
Type 1 diabetes is an autoimmune condition which affects more than 30,000 Scottish adults and children. It cannot be prevented and is not linked to lifestyle. Awareness of the challenges associated with type 1 diabetes is increasing and the impact on them of the new sugar tax needs to be acknowledged and tackled both with understanding and good communication.
Yours sincerely,
Catriona Morrice
Development Manager – JDRF
Lynx numbers
Sir,
Lynx numbers are on the rise in Europe, through natural colonisation and reintroductions, sparking calls for the species' return to Britain. While this may be undesirable for some, tangible benefits would include helping to control the damaging effects of deer in commercial woodland, and opportunities to boost Scotland's appeal for nature based tourism.
Reintroducing lynx would be a milestone for British nature conservation. By preying on roe deer, they could play a vital role in maintaining healthy woodlands. But the lynx's return could bring challenges too, so a respectful dialogue with those who live and work in the countryside is essential before any reintroduction could ever happen.
Evidence suggests that lynx survived in Britain until after the Middle Ages. The Highlands may be where it held out longest, and this is also where a modern-day lynx population could live, given the area's abundance of forest and woodland deer as prey. Previous research indicates that the Highlands could support a population of at least 400 wild lynx.
Following centuries of decline due to deforestation, persecution and overhunting, the lynx has been reintroduced to several European countries since the 1970s – including in busy areas more densely populated than the Highlands, and which are used for farming, hunting, forestry and tourism. The lynx's shyness and small size mean attacks on humans are virtually unknown.
In Scotland, there would be scope for conflict between lynx and human hunters of deer, but probably less so than in other countries, where there are fewer deer and more hunters. Impact on red deer stalking is unlikely to be significant because lynx are shy ambush-hunters, which avoid open areas and instead prefer smaller woodland deer such as roe and sika. Lynx also avoid red deer stags, which are most sought after by human hunters.
Attacks by lynx on sheep grazed in open pasture are relatively rare, but occasionally happen. Switzerland's 250 lynx cause livestock losses of 20 to 50 animals each year, while preying on 12,500 wild roe deer and chamois annually. Nevertheless, farmers here would need to be reassured that negative local impacts could be managed.
This could be achieved by using and adapting methods tested in other countries for years – such as livestock protection measures, compensation schemes, and even lethal control.
Based on evidence from other countries, there would be no significant impact on threatened species such as wildcats and capercaillie. Meanwhile, lynx are known to routinely prey on foxes, which do prey on capercaillie and can compete with wildcats for food.
A major benefit of a healthy lynx population would be to reduce the impacts and costs of browsing by deer. Scotland's high numbers of woodland deer – which currently lack natural predators – can have a costly impact on forestry and on wildlife habitats through heavy browsing.
Lynx could offer opportunities for Scotland's tourism industry, especially important in economically fragile areas such as the Highlands. Nature-based tourism is growing, and has been calculated to have a direct economic benefit to Scotland of £1.4 billion and 39,000 full-time jobs annually.
David Hetherington
Ecologist and author of The Lynx and Us