Letters to the editor – week 07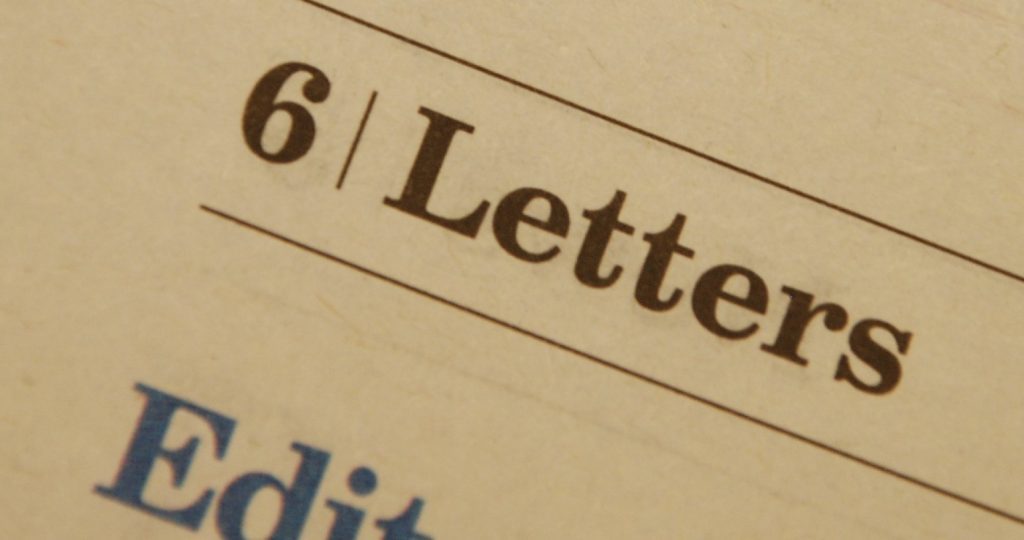 Want to read more?
We value our content, so access to our full site is  only available on subscription.
Your subscription entitles you to 7-day-a-week access to our website, plus a full digital copy of that week's paper to read on your pc/mac or mobile device.
And there's more – your subscription includes access to digital archive copies from 2006 onwards
Subscribe Now
Brain injury support
Sir,
I am writing to tell your readers about a new handbook entitled 'Me and my brain', that has recently been launched by The Children's Trust for teenagers affected by brain injury.
Being a teenager can be a difficult time with lots of change and decisions to be made. For teenagers with a brain injury these difficulties can be heightened.
Me and My Brain has been written with the help of young people affected by the condition as well as health professionals who specialise in childhood brain injury. It provides advice and guidance on key topics such as bullying, driving, alcohol and education, alongside real life experiences from teenagers.
The handbook is also recommended for family members, teachers, carers or colleagues, providing a detailed explanation of brain injury and how the disability, which is often described as hidden, can affect young people's day to day lives.
Me and My Brain is a free resource and can be ordered from www.thechildrenstrust.org.uk.
Every year 40,000 children in the UK are left with a brain injury as a result of an accident or illness and many have to live with ongoing, long-term difficulties. We hope this handbook will be able to help some of these young people through what is often a very difficult time.
Maria Coyle, information manager, The Children's Trust, Surrey
Canal bridge repairs
Sir,
Please can BEAR Scotland put a temporary repair in place either side of the Canal Bridge at Ardrishaig.
The surface is getting worse every day and is a hazard to motorists, as is the area in Lochgilphead at the Bus stop on Lochnell Street.
It really is ridiculous and action is needed now to make the road safer.
Peter Laing, Lochgilphead
MSPs must act on plastics
Sir,
I believe the Scottish Government must go further in the fight to address the occurrence of microplastics around beaches and shores.
Politicians should support the establishment of a microplastics baseline to monitor the effectiveness of current environmental policy.
Recent research from Heriot-Watt University's Centre for Marine Biodiversity and Biotechnology reveals that the levels of microplastics in the Firth of Forth have not changed significantly in the last five years, indicating that the sources of microplastics are still not being adequately addressed.
A levy on single-use plastic items implemented by the Scottish Government  helps to influence consumer behaviour locally – as seen with the plastic bag tax.  It is not a uniquely Scottish problem, but it would send a strong signal to governments of other countries.
We need a baseline for all UK waters so that we can assess the impact of government policies that aim to reduce marine pollution, such as the microbead ban. At present we only have a patchwork of data from studies in Scotland and comparable North Sea locations.
The growing amount of data regarding plastic litter contamination in the marine environment has led to the need for understanding the related risks not only to the health of marine life, but to humans as well. Microplastics are working their way into our food chain.
The data from the Firth of Forth provides a local snapshot but our recent research there, as well as in Shetland and the Hebrides, indicates that a much wider Scotland and UK-wide monitoring programme is required to generate a baseline against which to measure the effectiveness of Scottish and international policy measures.
Dr Mark Hartl, associate professor of marine biology, Heriot-Watt University
Child internet safety
Sir,
The NSPCC is the leading children's charity fighting to end child abuse in the UK.
Tuesday February 6 was designated Safer Internet Day, and the NSPCC views this as an important issue.
The internet is an amazing place for young people to learn, create and build friendships so it's vital their online world is a safe one.
We all have a responsibility to ensure children are kept safe online so they can enjoy the positives without being exposed to risks including inappropriate content or online abuse.
That's why the NSPCC was pleased to support Safer Internet Day as it brings tech companies, government, law enforcement and communities together to work towards creating a safer internet for children so they can benefit from the exciting possibilities it offers.
Joanne Smith, NSPCC Scotland policy and public affairs manager
Autism awareness
Sir,
The National Autistic Society Scotland is urging Mid Argyll residents to get involved in its biggest fundraiser, World Autism Awareness Week, which runs from March 26 to April 2.
In the seven days leading up to World Autism Awareness Day on April 2, the charity wants to encourage schools, workplaces and individuals in Argyll and Bute to take part in activities to raise money and autism awareness.
Whether it's taking part in a bake sale, sponsored walk or wearing a onesie, there are plenty of ways in which Argyll and Bute residents can get involved at home, school or work. Free fundraising guides, packed full of great ideas on how to raise money so the charity can continue their life-changing work can be downloaded from www.autism.org.uk/waaw.
The charity needs the public's support to raise vital funds to continue running campaigns like Too Much Information, training and sharing knowledge with professionals working with autistic people, and so much more.
Autism is a lifelong, developmental condition that affects how a person communicates with and relates to other people, and how they experience the world around them.
Around 58,000 people in Scotland are autistic, and although we have come a long way in raising awareness, there's still more to be done until everyone understands autism.
Our research found that although 99.5 per cent of people in Scotland have heard of autism, just 16 per cent of autistic people think it is understood in a meaningful way. We want to increase understanding of the condition – which affects one in 100 people – in order to tackle this issue and build more compassionate communities.
This World Autism Awareness Week, I hope that people living in Lochgilphead will get involved and help us to raise vital funds so we can continue to make a difference to autistic people in Scotland.
More information can be found at www.autism.org.uk/WAAW.
The charity wants to close the gap between awareness and understanding so that Scotland can become an autism-friendly nation.
Jenny Paterson, director, National Autistic Society Scotland
Cautious Welcome
Sir,
Finnie Gives Islands Bill
As island communities spokesperson for the Scottish Greens I would give a cautious welcome to the Scottish Government's Islands Bill.
The stage one parliamentary debate is an opportunity to debate the general principles of the bill, with any amendments to the bill being considered at stages two, and three.
Our island communities face many unique challenges and I am pleased that this important piece of legislation has been brought forward which should ensure 'island proofing' is given due consideration as part of all future government policy.
Greens support calls for appropriate devolution to island authorities, ensuring day-to-day decision which impact people's lives are made as close to them as possible. We are keen to see all local communities have more control over their resources.
Marine licensing powers are of course particularly relevant to islands and I'm keen to hear more from the Scottish Government on how they intend to deliver on this complex matter.
Some of the most resilient and supportive communities in Scotland are within islands and I believe this bill has the potential to be a step in the right direction of empowering these island communities in a manner they deserve.
John Finnie, MSP for Highlands and Islands region