Letters to the editor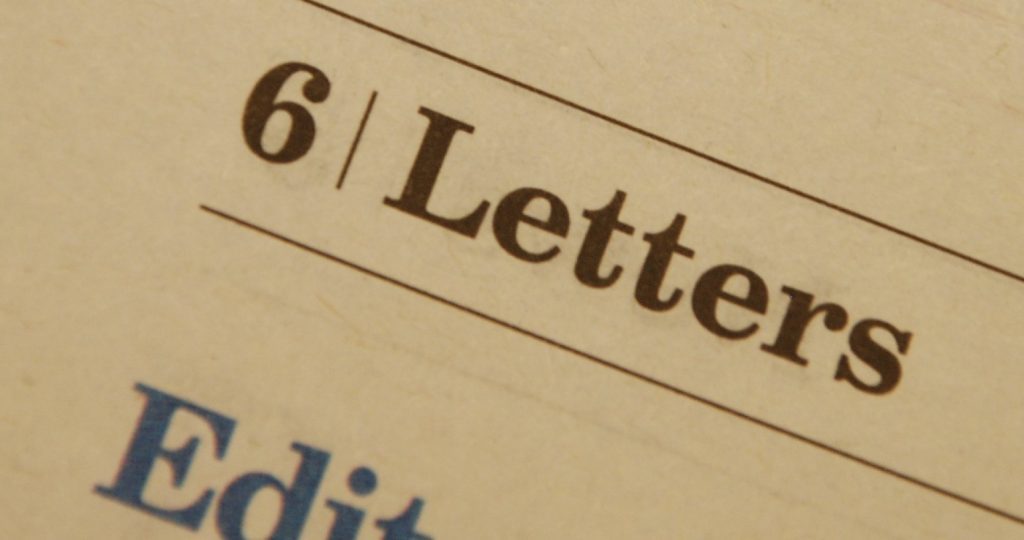 Want to read more?
We value our content, so access to our full site is  only available on subscription.
Your subscription entitles you to 7-day-a-week access to our website, plus a full digital copy of that week's paper to read on your pc/mac or mobile device.
And there's more – your subscription includes access to digital archive copies from 2006 onwards
Subscribe Now
Proposed removal of the Road Safety Unit – an open letter to all Argyll and Bute councillors
Dear councillor,
I have been asked to write to you on behalf of Lochgilphead High School's parent council regarding one of the council's proposed budget savings for 2018/19.
Option TB16-3, which comes under the 'Economic Development – Strategic Transportation' heading, reads: 'Reduce road safety materials budget and remove the Road Safety Unit'.
This short sentence has major implications not just for every parent in Argyll and Bute but for every resident, regardless of age.
The Road Safety Unit provides a vital service to the 12,000 primary and secondary pupils spread right across the council area. It also works with our Early Years bases.
From initiatives including 'Streetfeet' pedestrian training, the Road Safety Magic Show, Streetsense2 and the 'icycle' cycle training in the primary sector to 'Your Call', 'Crash Magnets' and presentations by the Baldy Bane Theatre Company in secondary schools, the Road Safety Unit challenges all pupils to take responsibility not just for their own safety but for the safety of others in the road environment.
These are not just the young pedestrians, cyclists and passengers of today. They are Argyll and Bute's drivers of tomorrow.
The Road Safety Unit your are being asked to agree to scrap was also the first in Scotland to introduce a grant to new drivers to encourage participation in 'Pass Plus' training. Many other Scottish local authorities now do the same.
In response to the increase in motorcyclist fatalities over the last five years, it also teamed up with North Ayrshire Council and INDMedia to contribute to a magazine aimed at bikers who ride on West of Scotland roads called Scottish Biker Magazine. This is available free of charge throughout Scotland.
Argyll and Bute Council's Road Safety Unit is at the forefront of road safety education in Scotland. We are shocked its existence is now hanging in the balance.
The 1988 Road Traffic Act stipulates that it is the responsibility of the local authority to 'prepare and carry out a programme of measures designed to promote road safety'. It also states that local authorities should 'take measures to prevent accidents including the dissemination of information and advice relating to the use of roads, and the giving of practical training to any class of road user'.
Removing the Road Safety Unit would render Argyll and Bute Council incapable of fulfilling these responsibilities. The apparent attempt at justifying the saving by stating 'road safety information available through other organisations' is – at best – misleading.  There is NO 'other organisation'  which can teach road safety to young people across Argyll and Bute. And if the inference is that the police will take up the slack, our understanding is that Police Scotland now very much concentrates on enforcement rather than education.
The Scottish Government has set ambitious road casualty reduction targets, and the Road Safety Unit liaises closely with Police Scotland and Scottish Fire and Rescue in working to achieve these targets across Argyll and Bute.
Road safety is an issue which affects everyone, regardless of age. As well as being traumatic and often tragic, accidents are very expensive. Transport Scotland's 'Reported Road Casualties Scotland 2016' report put the average cost of a fatality at £2,161,725 and of a serious injury at £245,144.
At your budget meeting, you will be asked to agree to remove Argyll and Bute's innovative and proactive Road Safety Unit for a saving of just £84,000 – a fraction of the cost of dealing with even one serious road accident.
The work this unit does is vital to the current and future safety of Argyll and Bute's population. We urge you in the strongest possible terms to reject this proposal.
Amanda Hampton, Lochgilphead High School Parent Council
Official response from Argyll and Bute Council:
'Our budget gap is estimated to be as much as £8.5m in 2018/19, and £33.9 over next three years. We therefore consult with local people so that, as far as funding allows, we can base how we change on their feedback. We have already put into action many suggestions made in previous years.
Savings proposals, including reviewing road safety information, along with public feedback to this year's consultation, will be considered at the budget-setting meeting in February 2018.
We would welcome hearing people's views and suggestions on planning our services through this year's consultation at www.argyll-bute.gov.uk/plannin gourfuture2017 or emailing planningourfuture@argyll-bute. gov.uk.'
Reply from Councillor Roddy McCuish, the council's policy lead for roads and amenity services:
'Unfortunately there's no getting away from the fact that these are really tough times for councils. Funding cuts demand difficult decisions. Next year alone our budget gap is estimated to be as much as £8.5 million. We don't know yet what exactly we're dealing with. The Scottish Government is expected to announce funding later this month.
We're using this time to ask local people for their views on changing the work of the council. Thank you to the parent council for taking the time to give us this feedback. I'd encourage everyone to get involved by answering the consultation.
In a perfect world we would love to be in position we make no cuts at all. We can only spend what we have Ideally I would like to have more than a one year settlement this would allow us to plan for the future and not put our staff and constituents  through this turmoil  every year.'
In defence of the NHS
Sir,
In reply to the in the letter published  in the Argyllshire Advertiser for Friday November 24 criticising the local GP Practice. I want to write to their defence.
The Americans, Australians, Canadians, French, Italians and others are all proud of their countries and achievements. Why are we so unappreciative and critical of our achievements, especially the NHS?  The NHS is not perfect, but it is also abused and under appreciated by some patients.
During my life I have had the 'misfortune' to need treatment from several departments of the NHS and my care in each case has been very good – care which was carried out by hard working, caring, well trained staff. I have recently been diagnosed with cancer and unlike Cllr Redman's doom and gloom description of the NHS, my diagnosis and treatment was fast and efficient.
The care and attention I have had locally has been exemplary and I cannot praise them highly enough. They have, without exception, gone above and beyond the call of duty in their treatment of me.
We do not appreciate our NHS enough, and as far as I am concerned the new system works.
Name and address supplied
Screen Machine in Inveraray
Sir,
I write following your article in the December 8 edition of the Argyllshire Advertiser on the screen machine.
Over the last year Inspire Inveraray has worked hard to invite the mobile cinema to the town.
The main requests from the Screen Machine staff was that they are near toilets, so the obvious place would be in the car park at the pier opposite Ban Duic restaurant. This area is well lit and safe and central within the town. The cinema would also be visible to the public, encouraging attendance. The cinema  would cover would be no more than eight parking bays, while we are hoping for about four visits a year, mostly at a time of year when there are reduced tourist numbers and there are plenty of empty parking bays in town.
The area beside the toilets was the one the Screen Machine team felt was most suitable, as it is manageable for the vehicle to get access the car park. The manhole covers that would be driven over belong to Scottish Water, who agreed that the vehicle would not damage the covers. Also, it was also easy to collect rubbish at night and that would be carried out by the Screen Machine staff.
The two sites suggested by council officials were the old shinty pitch and the castle car park, off the A819. This would require Inspire Inveraray to hire two mobile toilets for each visit and for this they would need to raise funds from the community. Inveraray Community Council offered money through their micro grants as a contribution towards the cost of hiring portable toilets, though this would only cover one visit for the cinema.
After submitting our case to our three Argyll and Bute councillors, it was agreed to put the matter to the area committee meeting to vote on the issue.
Now the council has passed the matter on to the policy and resources committee for approval.
We know the site we have asked for is the best because the Screen Machine  would  be visible to the public and  encourage them to come and enjoy the films in a safe, well-lit place and managed area.
We intend to keep the pressure on the council to allow the cinema to go ahead.
Derrick Anstee, Inspire Inveraray (Inveraray Community Company)